Berries & Cream Sourdough French Toast Bake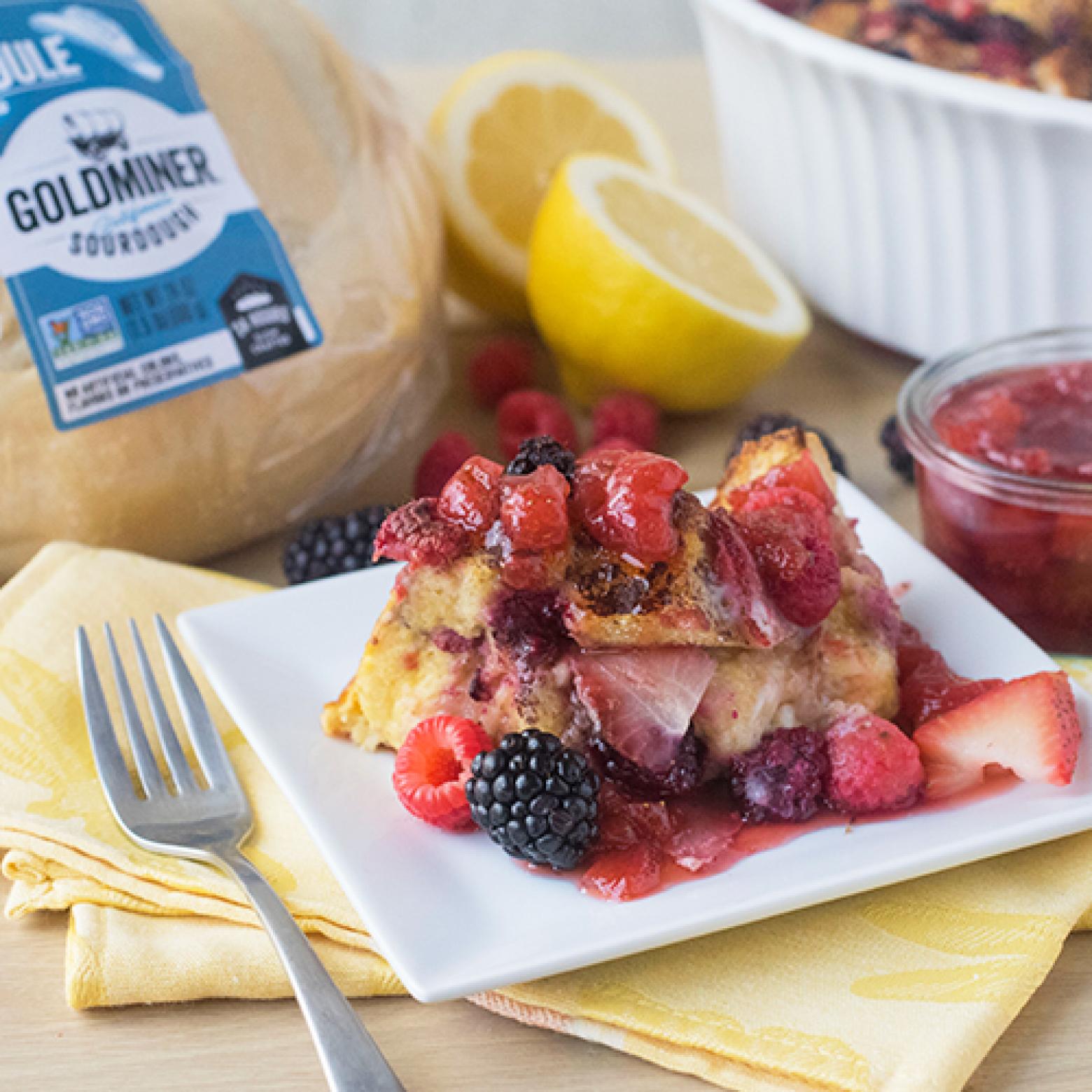 Product Image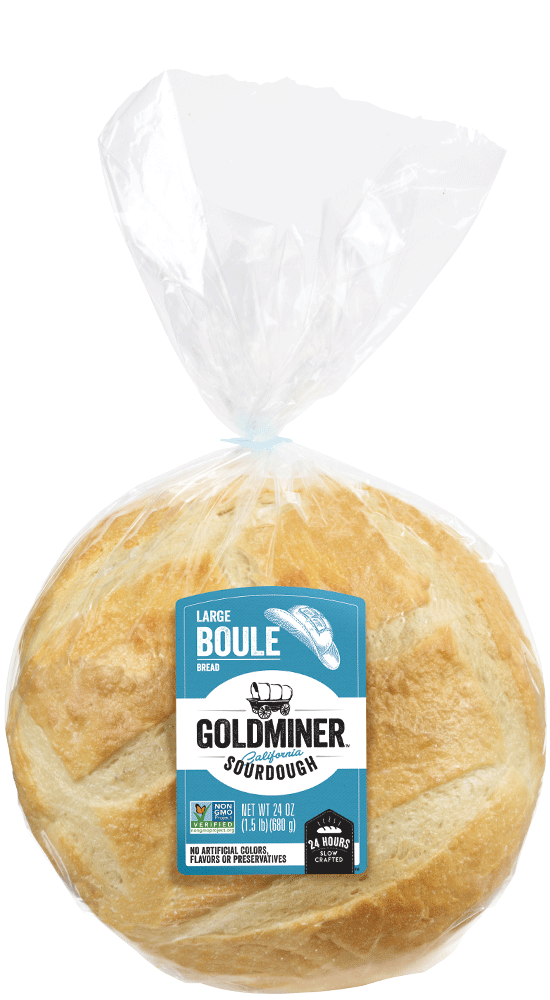 Subtitle
NET WT 24OZ (680 g)
Allergens
CONTAINS WHEAT. MAY CONTAIN SOYBEAN, EGGS AND TREENUTS.
Ingredients
UNBLEACHED ENRICHED WHEAT FLOUR (WHEAT FLOUR, MALTED BARLEY FLOUR, NIACIN, REDUCED IRON, THIAMIN MONONITRATE, RIBOFLAVIN, FOLIC ACID), WATER, ENRICHED WHEAT FARINA (FARINA, NIACIN, REDUCED IRON, THIAMIN MONONITRATE, RIBOFLAVIN, FOLIC ACID), SALT, YEAST.
Ingredients
1 California Goldminer® Sourdough Large Boule, cubed
8 oz. mascarpone
3 tbsp. powdered sugar
1 tbsp. milk
1 tsp. lemon juice
2 tsp. cinnamon
1 cup strawberries, sliced
1 cup raspberries
1 cup blackberries, sliced in half
8 eggs
2 cups milk
1 tsp. vanilla extract
1/3 cup maple syrup
Strawberry Sauce:
3 cups strawberries, diced
1 cup sugar
2 tbsp. lemon juice
¼ tsp. vanilla extract
Directions
Lightly grease a 9x13-inch baking dish. Whip together mascarpone, powdered sugar, milk and lemon juice until combined.
Arrange half the bread cubes in the dish, sprinkle with 1 tsp. cinnamon and top with the mascarpone mixture. Sprinkle half the berries over the mascarpone, and top with remaining bread cubes, cinnamon and remaining berries.
In a large bowl, mix the eggs, milk, vanilla extract and syrup. Pour over the bread cubes and press down to ensure all the bread cubes are soaked. Cover with foil and refrigerate for up to one hour.
Preheat the oven to 350˚F. Keep covered and bake for 30 minutes.
While you're waiting, make the strawberry sauce. In a medium saucepan over medium heat, combine strawberries, sugar, lemon juice, vanilla extract and bring to a boil. Lower heat to a gentle simmer and stir occasionally until the strawberries are soft and the sauce is thickened (approximately 10 minutes).
Uncover the French toast bake, and continue baking until center is firm and the surface is lightly browned (approximately 25-30 minutes). Top with the strawberry sauce, serve and enjoy!