Chicken Schnitzel & Kale Slaw Sandwich-Ettes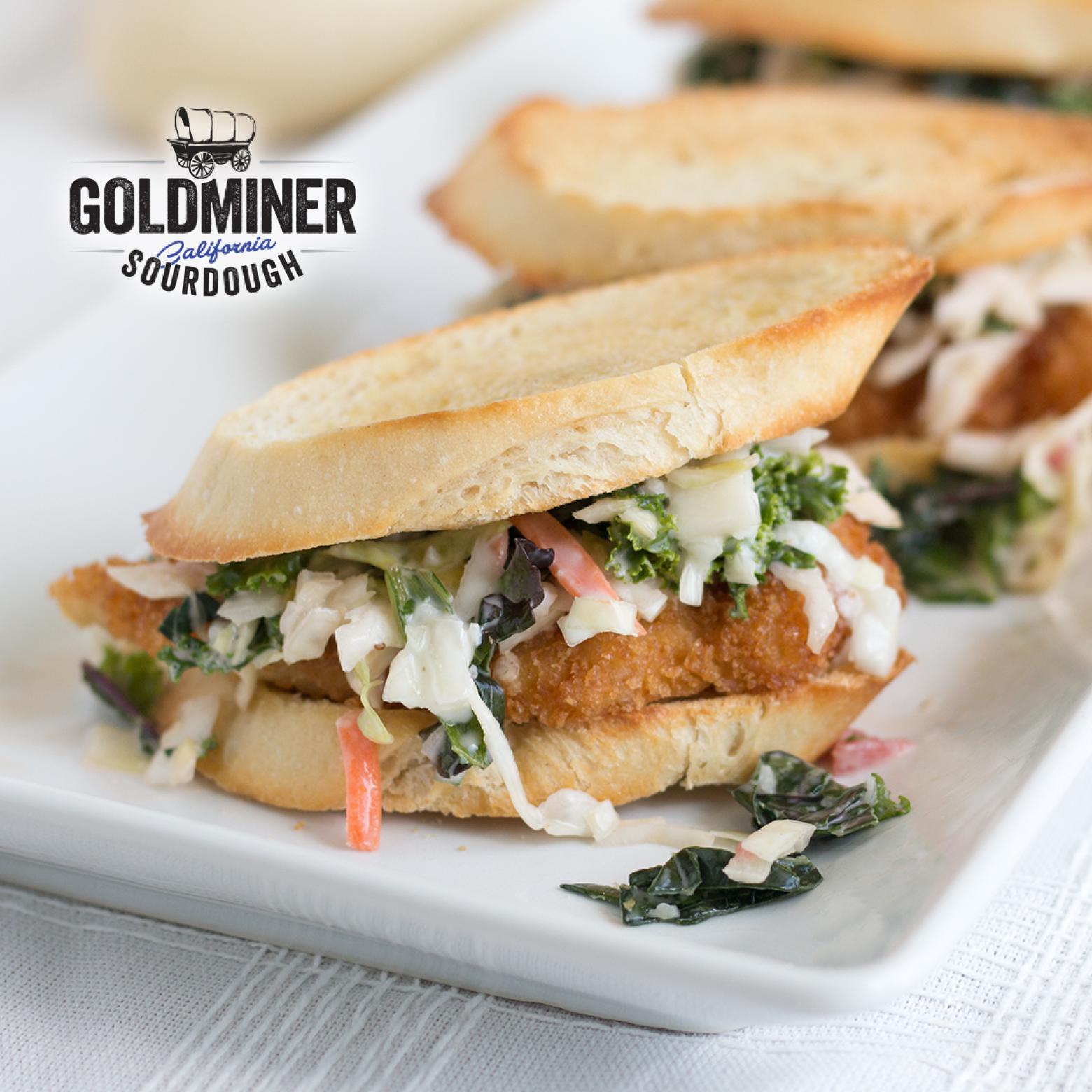 Product Image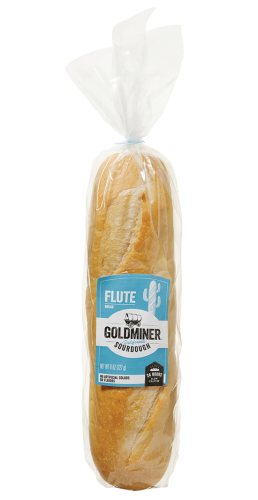 Subtitle
NET WT 8OZ (227 g)
Allergens
CONTAINS WHEAT. MAY CONTAIN SOYBEAN, EGGS AND TREE NUTS.
Ingredients
ENRICHED WHEAT FLOUR (WHEAT FLOUR, MALTED BARLEY FLOUR, NIACIN, REDUCED IRON, THIAMIN MONONITRATE, RIBOFLAVIN, FOLIC ACID), WATER, RICE FLOUR, CONTAINS 2% OR LESS OF: YEAST, SALT, WHEAT PROTEIN ISOLATE (WHEAT GLUTEN, PHOSPHATE, LACTIC ACID, SULFITES), MALTED BARLEY EXTRACT, FUMARIC ACID, LACTIC ACID.
Ingredients
Ingredients:
1 California Goldminer® Sourdough Flute bread, sliced diagonally
2 boneless, skinless chicken breasts
1 cup flour
2 tsp. garlic powder
½ tsp. sea salt
1 tsp. freshly ground black pepper
1 tsp. paprika
3 eggs
1 cup buttermilk
1¼ cup fresh breadcrumbs
3 tbsp. flat-leaf parsley, chopped
3 tbsp. fresh oregano, chopped
Lemon zest
1½ tbsp. butter, divided
1 cup olive oil
Kale Slaw (recipe follows)
Kale Slaw Ingredients:
1 tbsp. olive oil
2 tbsp. mayonnaise
1 tsp. apple cider vinegar
Coarsely ground salt and pepper
3 cups mixed shredded kale and red cabbage
1 carrot, peeled and julienned
¼ cup fresh parsley leaves
¼ cup red onion, diced
Directions
Kale Slaw Directions:
In a small bowl, whisk olive oil, mayonnaise and apple cider vinegar. Season with salt and pepper.
In another bowl, combine shredded kale and cabbage, julienned carrot, parsley and red onion. Season with salt and pepper, drizzle with dressing and toss to coat. Set aside at room temperature while you prepare chicken.
Chicken Directions:
Preheat oven to 400°F. Put each chicken breast between 2 sheets of plastic wrap and pound with a rolling pin until slightly flattened.
Mix flour, garlic powder, sea salt, ground pepper and paprika together in a shallow bowl. In another bowl, beat the eggs with the buttermilk. On a baking sheet, mix breadcrumbs, chopped parsley, oregano and lemon zest.
Dip each chicken filet in flour first to coat, then in the egg mixture and finally in the breadcrumb mixture. Let breaded chicken breasts dry for about 10 minutes to allow for better browning when frying.
Arrange flute slices on baking sheet. Brush both sides of each flute slice with melted butter and cook in oven until light brown (approximately 10 minutes).
Heat the butter and olive oil in a non-stick frying pan over medium heat. Cook the chicken breasts in batches for 3 minutes on each side, until golden brown and cooked through. Place on paper towels to drain excess oil and keep warm while you cook remaining chicken.