Pumpkin & Bacon Sourdough Grilled Cheese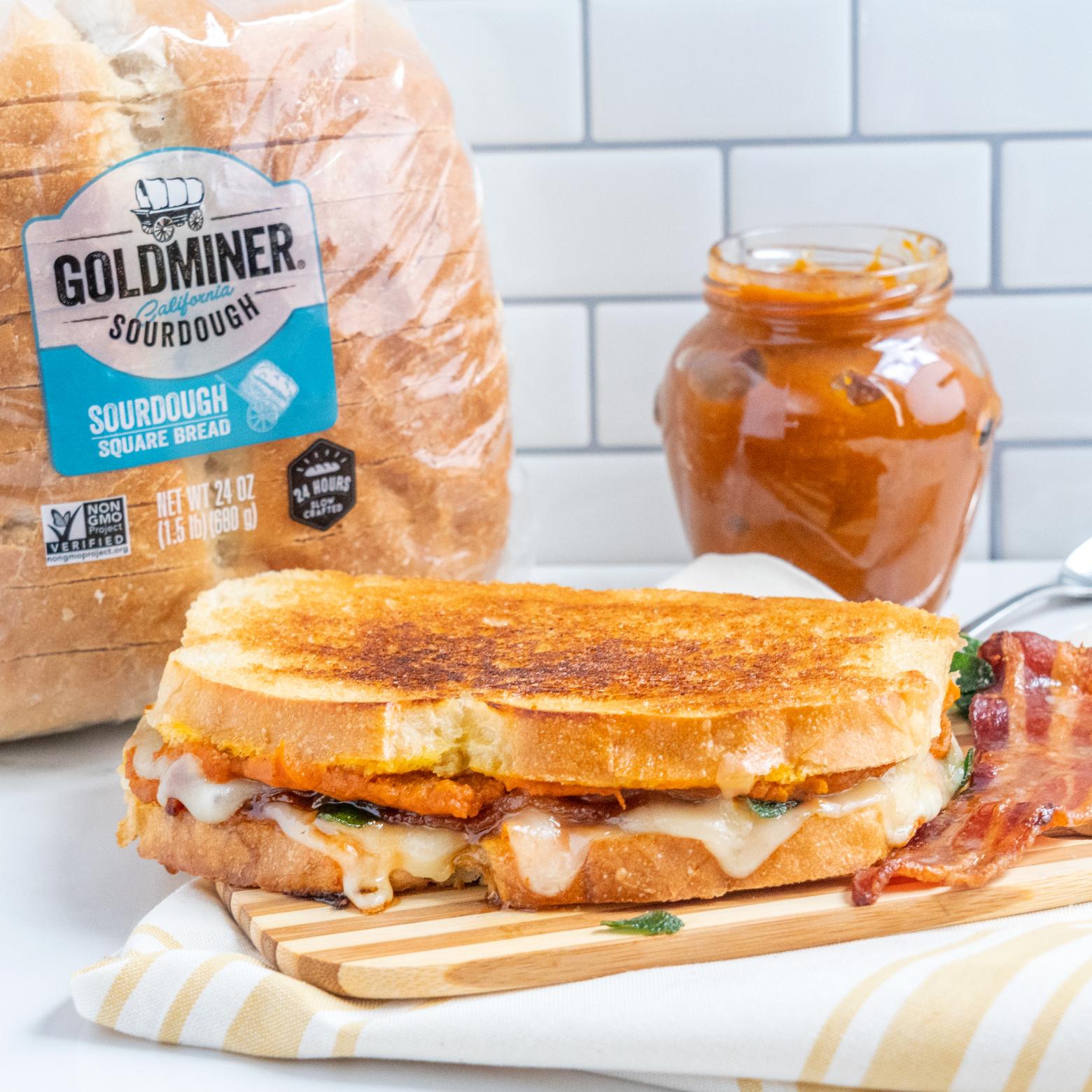 Product Image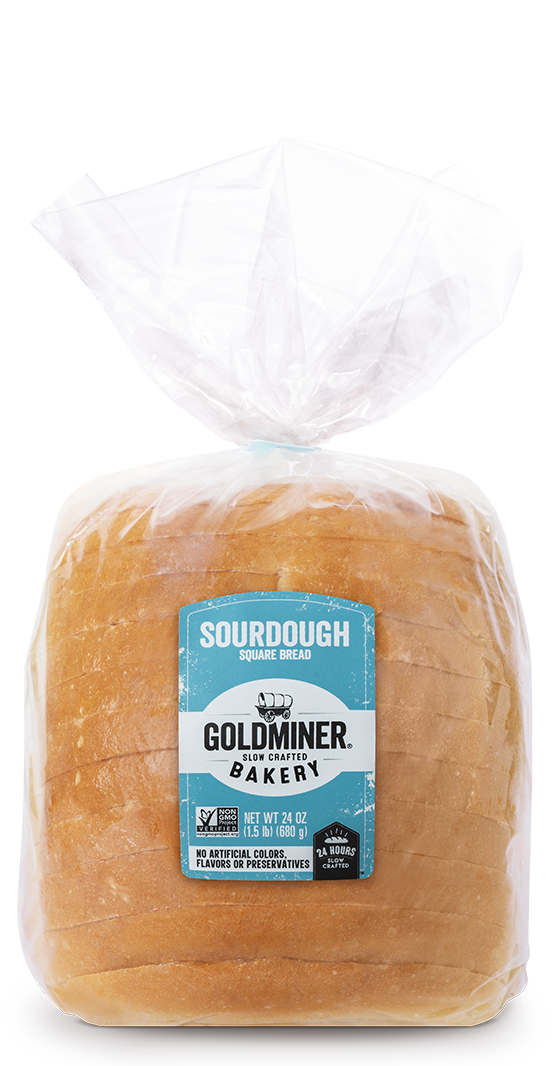 Smart Label
https://www.smartlabel.org/products
Subtitle
NET WT 24OZ (680 g)
Allergens
CONTAINS: WHEAT. MAY CONTAIN SOYBEAN, MILK, EGG AND TREE NUTS.
Ingredients
ENRICHED WHEAT FLOUR (WHEAT FLOUR, MALTED BARLEY FLOUR, NIACIN, REDUCED IRON, THIAMIN MONONITRATE, RIBOFLAVIN, FOLIC ACID), WATER, SALT, VEGETABLE OIL (CANOLA OIL OR SOYBEAN OIL), YEAST, CULTURED WHEAT FLOUR.
Ingredients
4 slices California Goldminer® Sourdough Sourdough Square Bread
8 slices Havarti cheese
Sage Butter (recipe follows)
Maple Candied Bacon (recipe follows)
Pumpkin Purée (recipe follows)
Sage Butter Ingredients:
½ stick of unsalted butter
1 bunch sage leaves
Pinch of salt
Maple Candied Bacon Ingredients:
4 12 oz. bacon slices
4 tbsp. maple syrup
¼ cup brown sugar
Pumpkin Purée Ingredients:
1 29 oz. can pumpkin purée
1 cup apple juice
½ cup granulated sugar
¼ cup honey
2 tsp. cinnamon
2 tsp. lemon juice
1 tsp. ground ginger
¾ tsp. ground nutmeg
Directions
Prepare the Sage Butter. Melt the butter in a medium saucepan over medium heat. Add the sage, and lower the heat. Swirling the pan, cook until the butter is starting to brown and the sage leaves crisp. Remove from heat and season sage leaves with salt. Spoon leaves onto a paper towel-lined plate, and allow to cool slightly. Set pan of butter aside to cool.
Prepare the Maple Candied Bacon. Preheat oven to 400°F. Line a baking sheet with foil and top with a wire baking rack. Arrange bacon strips on wire rack. Brush half the maple syrup over bacon to evenly distribute. Sprinkle with half the brown sugar, pressing the sugar into the syrup. Bake for 15 minutes. Flip bacon over. Brush second side with remaining maple syrup, and sprinkle with brown sugar. Return to oven and back for 15 minutes, or until crispy. Allow to cool slightly.
Prepare Pumpkin Purée. Combine pumpkin purée, apple juice, sugar, honey, cinnamon, lemon juice, ginger and nutmeg in a large saucepan. Bring to a boil over medium-high heat, stirring constantly. Reduce heat to low and simmer 10-15 minutes, stirring regularly.
Assemble sandwich. Brush sage butter on one side of each slice of bread. Flip bread slices over, and spread pumpkin purée on each slice. On two slices of bread, add two slices of cheese, two slices of Maple Candied Bacon, a few of the crispy sage leaves, and remaining cheese. Top with second slice of bread, pumpkin purée side down. Place in a skillet over medium heat and cook, flipping intermittently, until bread is golden brown and cheese melts.